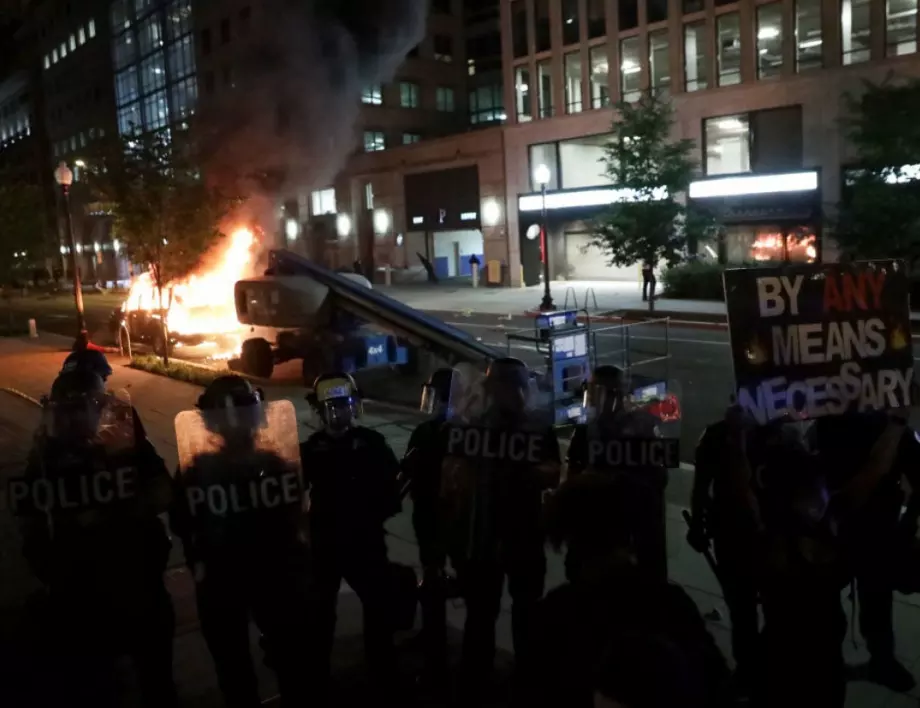 Photo: Getty Images / Guliver
Police in Minneapolis deliberately used hot spray against journalists in another protest over the death of George Floyd. This was told by RIA Novosti correspondent Mihail Turgiev, one of the journalists injured during the protest, BGNES reports.
A four-member team of VICE TV and the correspondent of the Russian agency found themselves in the area of ​​the riots. Suddenly, a van with police officers appeared on the road and immediately opened fire with rubber bullets. Hearing shouts of "Media!", The police stopped firing, but, pointing their weapons at the people, asked everyone to enter a nearby building.
Journalists knelt, showing their IDs. However, a police officer sprayed hot spray directly on the face of one of the members of the TV crew, who had previously introduced himself as a media employee, according to the RIA correspondent.
                                
                                
                            One of the police officers with a gas mask approached other journalists standing by the car and said something, but because of the mask it was not possible to understand what it was.
The RIA Novosti correspondent was on the other side of the car and had also previously shown his documents to law enforcement officers. Another officer approached him. The journalist showed his ID card and said: "I am from the press". In response, the policeman, without saying anything, immediately sprayed his face.
He and the other journalist were released to leave, but both took some time to recover.
Tags:
Police violence george floyd media journalists
Help the news reach you!

We are glad that you are with us here and now!
Visiting
Actualno.com
, you support freedom of speech.
Independent journalism needs your help.
Each donation will be donated to the tireless team of
Actualno.com
.
Donate now
Bank account
Recipient's name: Webground EOOD
IBAN: BG53UBBS80021021528420
BIC: UBBSBGSF
Reason: Donation to Actualno.com
function hideDiv(id) { document.getElementById(id).style.display = 'none'; document.getElementById('inters.outside').style.display = 'none'; }
$(document).ready(function(){
if(document.getElementById('sscrl.inside')) { var heightBanner = document.getElementById('sscrl.inside').style.height; heightBanner = heightBanner.replace("px", ""); if(heightBanner>10) {
$('.last_act_c').remove(); } } var bodybgtime = setInterval(function() { var url = $('body').css('background-image'); if(url!='none') { $('body').addClass('body-side-banner'); $('body').css('background-position','top'); $('.last_act_c').remove(); } clearInterval(bodybgtime);
},800);
if($('#article-content').data('newsid') != undefined) { window.onscroll = function () { var rect = document.getElementById('fb-comments').getBoundingClientRect(); if (rect.top < window.innerHeight) { loadAPI(); window.onscroll = null; } } } function loadAPI() { var js = document.createElement('script'); js.src = 'https://connect.facebook.net/en_US/sdk.js#xfbml=1&version=v3.3'; document.body.appendChild(js); } });


Source link
https://www.actualno.com/america/ruski-jurnalist-se-oplakva-policijata-v-sasht-me-napryska-s-lutiv-sprej-news_1467450.html