Alappuzha
oi-Swaroop Tk
Alappuzha: One of the 24 patients who was diagnosed with the disease today is a native of Alappuzha. The pregnant husband of a Mavelikkara resident who was confirmed by Kovid yesterday was diagnosed with the disease. He boarded a flight from Kuwait to Kochi on May 9 and took a taxi to his house in Quarantine. He was rushed to the Medical College Hospital. With this, the total number of Alappuzha districts treated by Kovid has been reduced to six. One of them is being treated at Manjeri Medical College.
Meanwhile, 18 persons from abroad have been admitted to Kovid Care Centers in Ambalapuzha and Cherthala taluks. Three persons from Alappuzha district who arrived from Riyadh this morning, five who arrived at Nedumbassery airport from Damam and three who arrived at Kuala Lumpur airport at Nedumbassery early this morning have been admitted to Kovid Care Center, Ambalapuzha. A total of 11 persons from the district were admitted to Kovid Care Centers in Ambalapuzha Taluk today. Seven persons from the Alappuzha district who arrived from Nedumbassery airport at 6.45 am were admitted to the Covid Care Center in Cherthala taluk. There are four men and three women. They arrived at the Cowid Care Center around 12.30 pm.
District Collector M Anjana said that everyone should act with utmost caution when entering the third phase of Kovid. Social masking and mask wear is a must. We have noticed people flocking to the shops to buy things. The Collector said that this should be avoided. Even a slight lack of vigilance can lead to cavid proliferation. Therefore, it should be avoided unless it is necessary, "he said.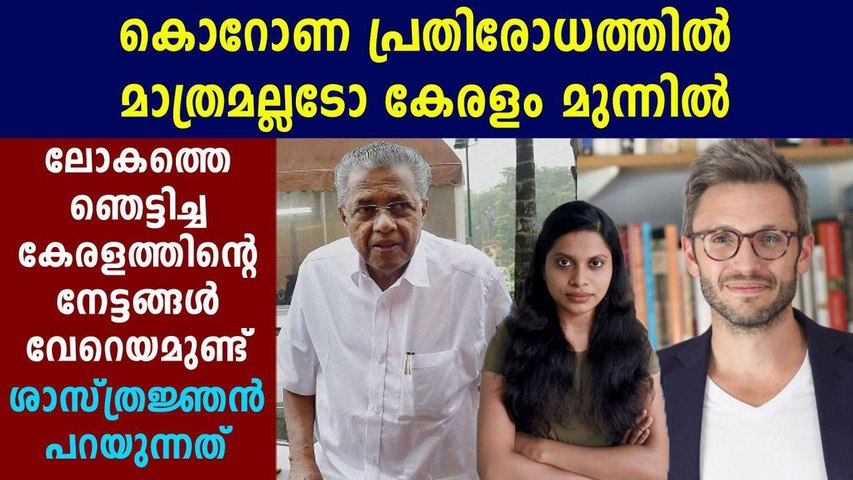 Jason Hickel Praises Kerala Model | Oneindia Malayalam
Meanwhile, Chief Minister Pinarayi Vijayan said that Kovid-19 has been confirmed in 24 states. 7 from Palakkad, 4 from Malappuram, 3 from Kannur, 2 each from Thiruvananthapuram, Pathanamthitta and Thrissur districts and one each from Alappuzha, Ernakulam, Kozhikode and Kasaragod districts. 12 were from overseas (UAE-8, Qatar-1, Kuwait-2, Saudi Arabia-1) and 11 were from other states (Maharashtra-8, Tamil Nadu-3). A person in Kannur got infected through contact.
A pregnant woman from Kuwait who was diagnosed with Alappuzha was admitted to a medical college

Two people confirmed by Kovid today are Alappuzha, one is pregnant; 343 expatriates in the district in Quarantine

58 expatriates returned to Alappuzha district today, all at Kovid Care Center

Panchayats in Alappuzha, working day and night to welcome the returners

Youth falls into canal with bike hitting two people, followed by police,

The district health department has so far arrived in Alappuzha with 116 expats

Implementing the reverse quarantine at Mararikulam, the guidelines have been released

Scholarship and Scholarship fund

Kovid Care Center Delayed: Alappuzha Village Officer

2000 km journey without food and water, leaving work and lodging in Mumbai to Mararikulam

Post says DCC has only 3,86,000 in the account; M Liju dismissed the allegation

Massive resignation at DYFI; Dispute with the MLA at the back


Source link
https://malayalam.oneindia.com/news/alappuzha/one-person-came-from-kuwait-confirmed-covid-in-alapuzha-248697.html