Highlights:
Deal final in BJP-JDU on seat sharing in Bihar elections
Important meeting held on Saturday, seat sharing may be announced today
LJP chief Chirag Paswan's final decision is awaited
A tweet by Chirag Paswan indicated the LJP to walk a different path
Akhilesh Singh, New Delhi / Patna
The seat-sharing has been announced by the Grand Alliance in Bihar elections. In such a situation, everyone is now waiting for the seat sharing formula of the ruling NDA. According to the information, the suspense about the LJP included in the NDA is deepening. This is because almost the seat sharing deal in BJP and JDU has become final. According to sources, the screw was getting stuck in some seats, which was resolved at the important meeting of party leaders of both parties held in Patna on Saturday evening. It is believed that there may be a big announcement on seat sharing by Sunday evening. With this, another thing has become clear that Nitish Kumar's position in the agreement between BJP-JDU will no longer be that of 'elder brother'.
50-50 agreement agreed on in BJP-JDU
Sources are telling that after taking a different route from LJP, seat sharing has been agreed in JDU and BJP in the ratio of 50:50. It is also expected that BJP may give up seats for the 5 sitting MLAs from RJD to JDU. However, BJP may have some difficulty in agreeing to this new demand as in such a situation it will have to cut its seats. This is exactly the same as Nitish Kumar had to give up the seats of his five MPs in the 2019 Lok Sabha elections. At that time the party had got 17 seats.
Also read: – Bihar Election: LJP clarified intent before meeting, decided to field 143 candidates against JDU!

Today, seat sharing can be announced in BJP-JDU
Meanwhile, former Maharashtra CM Devendra Fadnavis and party general secretary Bhupendra Yadav returned to Patna on Saturday to discuss seat sharing. Earlier, both the leaders were scheduled to reach Delhi to discuss the list of candidates. According to the information, on Sunday, BJP and JDU can make a big announcement regarding seat sharing. But everyone is waiting for the LJP's decision. Chirag Paswan has to take a decision on what will be the attitude of the LJP, which is angry with JDU. However, no formal announcement has been made by LJP so far.
Bihar election: RJD raised 'curtain' because of Mukesh Sahni's uproar in PC of Grand Alliance
Chirag's tweet indicates 'Ekla Chalo'
It was believed that the party could make a big announcement at the important meeting of Lok Janshakti Party's parliamentary board on Saturday. But just before the meeting, the meeting was postponed due to deteriorating health of Ram Vilas Paswan. Just before this meeting, party president Chirag Paswan, through a tweet, sought people's 'blessings' for his party's 'Bihar First Bihari First' vision document. Also, there are indications from this tweet that the LJP may contest a separate assembly election from the National Democratic Alliance (NDA).
Chirag Paswan praised PM Modi in tweet
Chirag Paswan has praised Prime Minister Narendra Modi through this tweet and said that all candidates of his party will strengthen the hands of the Prime Minister. It also made it clear that he has a complaint with JDU, a party led by Bihar Chief Minister Nitish Kumar. He posted a message on Twitter with a picture of Modi, 'I not only hope but also believe that all of you will give me your blessings to make Bihar first and to return the lost identity of Bihar, so that my May all the candidates strengthen the hands of Prime Minister Narendra Modi.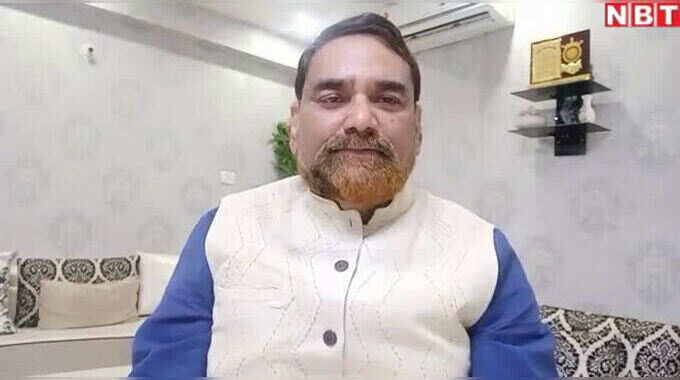 Bihar elections: With the announcement of seats, the Mahagathbandhan broke down, JDU bid – after turning its head, it fell victim to rain
'Jung' from JDU, LJP will field candidates for 143 seats!
LJP sources said that the party can contest 143 seats in Bihar's 243-member assembly and will not field its candidate against BJP candidates. Earlier, Chirag Paswan met BJP President JP Nadda and also spoke to Union Home Minister Amit Shah regarding seat sharing. This is because the BJP leadership wants to maintain the alliance. Sources said that the LJP is unhappy with the seats it is getting in the Bihar elections. That is why the party has prepared to field candidates against JDU.