Amar Ujala Network, New Delhi
Updated Fri, 16 Oct 2020 5:26 AM IST
Special screening for Corona warriors and their families …
– Photo: amar ujala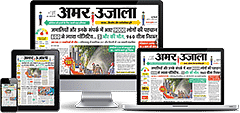 abstract
Special screening for Corona warriors and their families on day one
The show will be shown to the general audience from today, currently the old films will be shown
Detailed
Most theaters in the national capital remained closed on the first day after exemption from lockdown. Even if someone is open, the audience remains negligible. Some theaters in the capital had special screenings for Corona warriors and their families.
In these cinema halls, films like Sushant Singh Rajput's last film Chichhore, Kedarnath, Tanhaji, Shubh Mangal Savdhan, Malang, Yudh and Slap were screened. Because, no new film has been released this week. So, old films were shown here. Movie theaters will be opened for the general public from Friday.
A special screening of the Taapsee Pannu starrer slap was held for 40 Corono warriors at PVR Narayan, which doctors and civil security volunteers were invited to watch. This special screening was done by the New Delhi District Magistrate Office. Similarly, Tanhaji had a special screening for staff members and their families at PVR Cinema at 3C Mall in Lajpat Nagar, but the audience in the cinema hall was less visible. Lajpat Nagar PVR Cinema manager Sandeep Singh said that he is currently preparing to show three shows. The first show will start at 12 noon for Dream Girl. Tanhaji will be shown at 3.15 pm and Punjabi film Sardarji at 6.30 pm.
There are two-two foot markings to follow the social distance from the entrance to the cinema hall to the exit. The latest anti microbial will be used to clean the hall. E-ticketing is facilitated through digital payment.
Only 5 tickets sold
Only 5 tickets were sold for the 11.30 pm show at the Cinepolis Cinema in Greater Kailash. Nirman Vihar's Cinepolis Fun Cinema at Vthree's Mall, PVR Cinema at Kaushambi's EDM Mall, Eros Cinema at Jangpura and Cinepolis Karkardooma remained closed on Thursday.
These rules will apply
The central government has made mandatory rules for theaters. Of these, only 50 seats will be filled. Except one, people will sit on the other seat and there will be masking all the time. It will be mandatory to take care of proper ventilation inside. The air-conditioned temperature of the cinema hall will be above 23 ° C.