New Delhi, ANI. The guidelines for corona infection have worked as a lifeline for Brahmakamal, which augurs well for this rare species. The effect of the lockdown is also seen on Brahma Kamal, who is called the King of the Himalayan flowers. This flower, which blooms only once a year, is now spreading its fragrance even in the month of October. August is the right time for the blooming of Brahma Lotus. Experts are also surprised to see this thing. It is believed that this may have happened due to less tourist penetration and less pollution. This flower blooming on the ground has a religious and medicinal feature.
Corona period became a life donation for Brahma Kamal
In the era of Corona epidemic, thousands of Brahmakamal bloomed in Uttarakhand's Ghee Vinayak, Nandikund Pandavasera due to lack of movement of people. Tourists who went on trekking broke Brahmakamal before it matured, which prevented its seeds from spreading. This time the flower has fully ripened, and its seed is expected to increase the yield of Brahmakamal next year. Due to over-exploitation of pilgrims, it has reached the verge of extinction.
#WATCH Uttarakhand: Brahma Kamal flowers begin blooming in Rudraprayag. pic.twitter.com/dLLcyVweEe

– ANI (@ANI)
October 10, 2020
The specialty of Brahma lotus flower
It is very beautiful and it is also called divine flower. The scientific name of this flower is Socceria obovelata. Brahmakamal esteraceae is a clan plant. Dahlia, marigold, cauliflower, sunflower, safflower and Bhringraj are also other main plants of the same clan. This flower is known by many names such as Dudhaphool in Himachal, Barganadtoges in north-western India and Galgal in Kashmir. In Uttarakhand, it is also called the state flower. Apart from being beautiful, this flower is also used to cure many difficult diseases.
Brahma lotus blooms in two hours
Brahma Kamal is special because it blooms only at night on one night of the year. It is found only in the high places of the Himalayas of Uttarakhand. It takes two hours for the Brahma lotus to fully bloom. In this it blossoms up to 8 inches. It only feeds for a few hours. It is considered a symbol of good luck and prosperity.
Brahma Kamal is useful in these diseases
Brahma lotus flower blooms in the month of August. It starts producing fruits in September, October. It has a life of 5 or 6 months. Brahma is the favorite flower of lotus mother Nanda, so it is broken in Nanda Ashtami. Brahmakamal blooms once a year, which blooms only at night. Brahmakamal also has many medicinal uses. It is used in burns, colds, colds, bone pain etc. It is dried and used as a cancer drug. Fatigue disappears by drinking the water that comes out of it. Chronic cough is also overcome. The villagers living in the border area do not have disease in the village, for this, hang the flower on the doors of the house. Explain that in Tibet, Brahma Kamal is used to make medicines and things related to Ayurveda. People of Uttarakhand also use it to heal some kind of wound.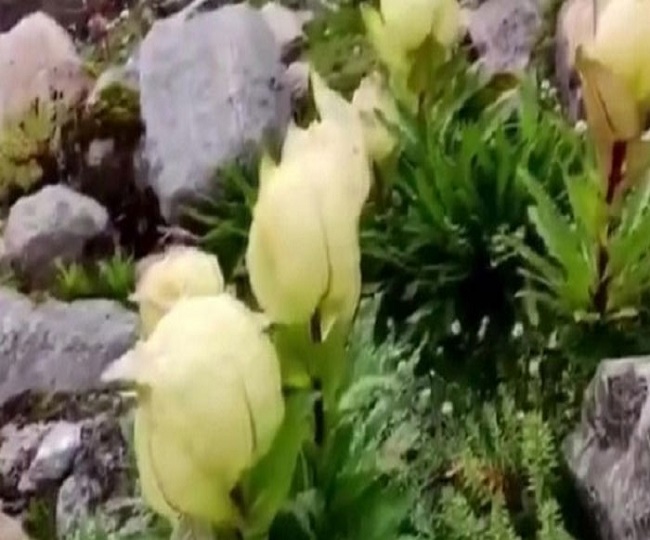 Religious importance of Brahma lotus flower
This flower also has great religious significance. This flower is considered a symbol of purity and auspiciousness. Brahmakamal simply means 'the lotus of Brahma'. It is said that only fortunate people are able to see this flower in bloom and whoever sees it gets happiness and wealth. These flowers are also offered on the idols of the temples of Kedarnath and Badrinath.
Brahma lotus blooms at an altitude of more than 4 thousand meters
Brahma is a plant of lotus esterase clan. Like a normal lotus, it does not grow in water, but blooms at a height of more than 4 thousand meters on the ground. But this time they have also been seen in areas with elevations of 3000 meters. According to ancient belief, Brahma Kamal gets its name after Brahmadev.
Download Jagran app and get job alerts, jokes, shayari, radio and other services with all news of news world